We produce upon receiving the custom design orders from our clients. Those boxes, will be produced with the correct carton material selection depending on the requirements of the durability of the box for the transportation and for the storage, satisfying the protection needs of the goods put inside, and guarantee the visuality properties of the boxes.  For flute wave type, carton type and density level selection, the weight of the goods inside will be taken into consideration and as a result the goods will be protected in the best way for the longest interval.The carton boxes are very important to penetrate the products and to catch a continuous level of sales within the market from the shelves. The visual eye catching designs and shapes will attract the people. The products' primary packaging can be film, foil or carton oriented. The secondary package can carry a set of products and will be mainly carton boxes that have flute waving to protect them.

The flute layer is produced with high sensitivity machinary using recyclable material. The paperboard is vapoured under high pressure and get prepared for waving and gluing operation. The shape of waves are given to the paper by special wave surfaced heavy rollers by pressing process. After this process the vapour is dried  at 120-180 degrees celcius. High level of energy is required during this process. Below you can check the different types of waves which will effect the strength of the boxes.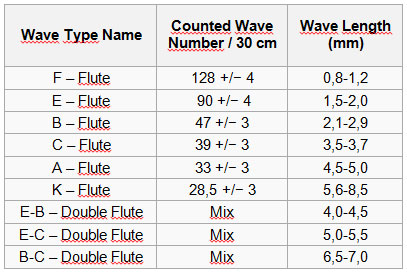 In the production of carton boxes there can be some design needs such as windowing, perforation application on die cut, embossing and special coating application are all possible. To make it possible to catch the desired stregth of the box, the wave type can be used one layer or laminated two layers.

Ofset Printed upper layer carton will be laminated to the set of the flute carton and the linerboard carrying the flute layer, then cut into special shape and prepared ready by passing through the folding and gluing machines to become a finished box to use. The finished boxes will be packaged and shipped to customers.